Upcoming Therapy Groups
Register HERE for the Connected Parenting Series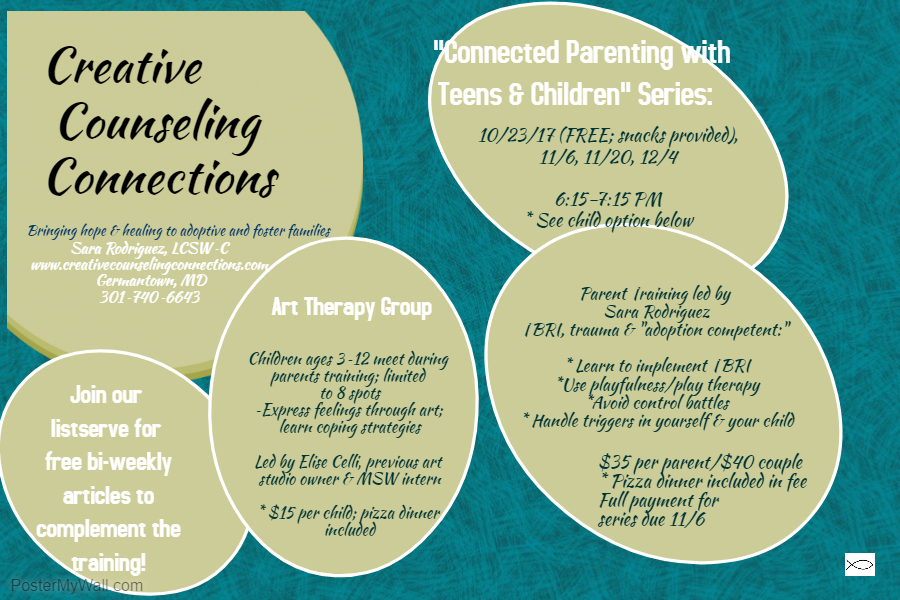 8-Week Adoptive Teen Girls Group:
Every other Monday, Sept 11- Dec 18
Areas of focus: anxiety, insecurity, emotional regulation, grief/loss + individual needs
Cost: $45 per session, total due at 1st group
Contact Sara Rodriguez, LCSW-C at creativecounselingconnections@yahoo.com or 301-740-6643
---
Need to talk to other adoptive parents who REALLY GET IT when it comes to your children?
Wish you had a safe place in which you could swap stories, learn helpful techniques and grow together?
Join a parent support group online via video-conferencing, from anywhere in the nation. Video-conferencing means you will receive a link that allows you to join from anywhere -your office- your house- your smartphone, and you will be able to see up to 4 others on your screen.
What can I expect in the support groups?
The groups are participant-run (these are not therapy groups); however, I will be joining you for a portion of the first and last group in order to set up the structure, provide recommendations and finally bring the group to a close. The first 25 minutes will be a time to share "highs and lows" of the week, while the second portion will be used to discuss a book or resource relevant to your stage in parenting. Of course, any group or individual can certainly sign up for another 6 weeks if you've made good connections and would like to continue.
Evening Support Group/Book Club for Parents of Adopted Children:
Mondays, 8-8:45 PM EST
April 13- June 1, 2015 (no group May 25 for Memorial Day)
Book: The Connected Child by Dr. Karyn Purvis
Lunch Support Group/Book Club for Parents of Adopted Tweens/Teens: $5.50 per group!
Wednesdays, 12:30-1:15 PM EST
April 8- May 13, 2015
Book: Beneath The Mask: Understanding Adopted Teens by Debbie Riley