Upcoming Therapeutic Groups (scroll down to see multiple groups in Maryland, Virginia and Nationwide)
In-person Combo Support & TBRI Training Group
Tuesdays, 9/25/18-10/30/18
7:00-8:30 PM
Led by Paula Schuster, LCSW-C and adoptive mother
The group will receive support from those who "get it" and review TBRI (Trust-Based Relational Intervention) and Connected Parenting training.
$25 per session; ask about insurance coverage
* Can't leave the house or need in-home, hands-on support for your family? Contact Creative Counseling for more info if you live in MD or VA!
* Stay tuned for an upcoming adoptive & foster family nurture group!
Contact Sara Rodriguez, LCSW-C at creativecounselingconnections@yahoo.com or 301-740-6643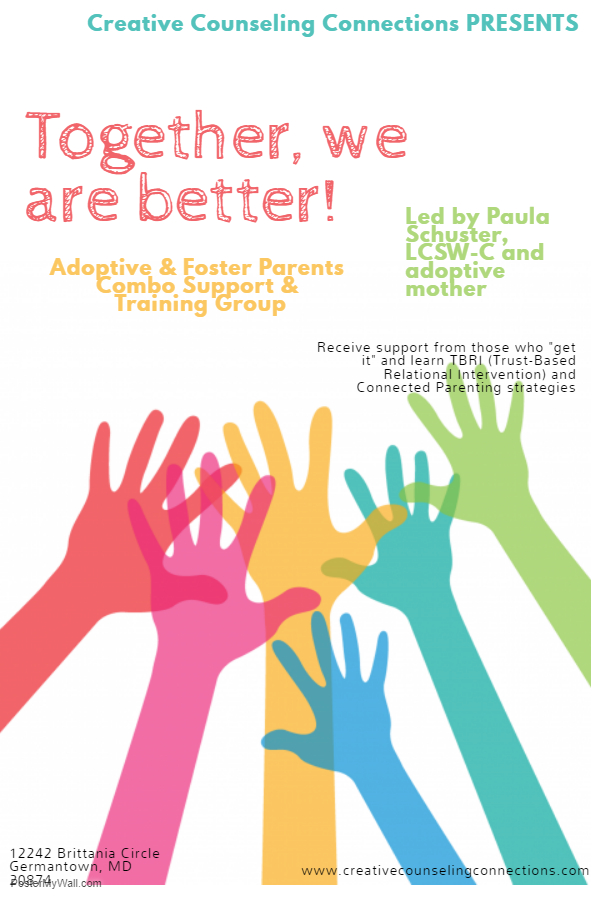 Lunch-break Phone support group for adoptive & foster parents
Thursdays, 9/13-10/18
A Place I Didn't Belong validates the sometimes devastating experiences of adoptive parenthood while offering hope, practical coping strategies, and spiritual renewal for the journey ahead. The trajectory of unmet expectations, our children's compromised beginnings, and the wounds we carry into our adoptions conspire to take us to a place we didn't belong. Insights on emotional healing help us reclaim hope for our adoption journey.
12:45-1:30 PM via phone conference
$15 per session for early registration (by 8/25)
Purchase the following workbook: A Place I Didn't Belong: Hope for Adoptive Moms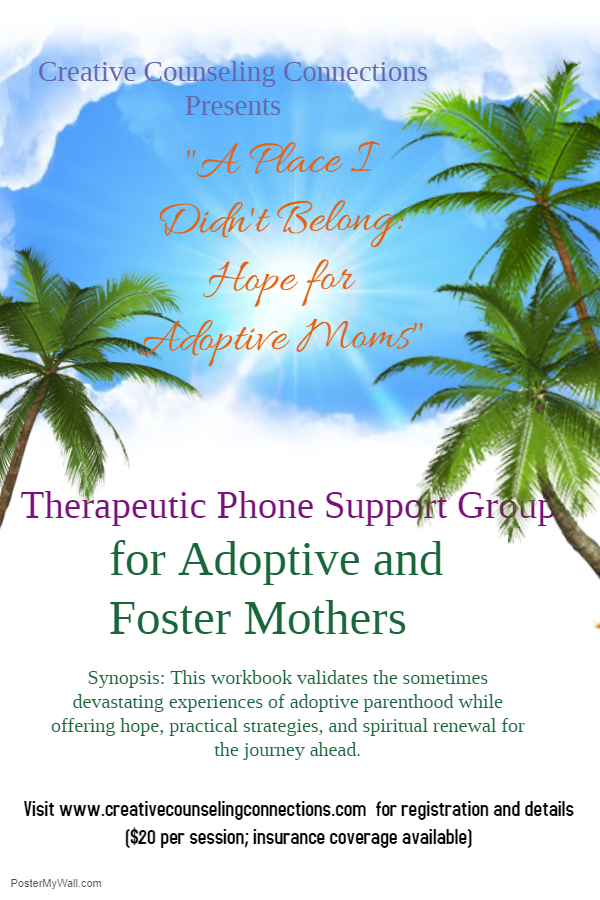 This group is designed for young men, ages 10-17 who need a place to "strength train" physically, mentally and emotionally. Expect to learn & practice coping strategies, strong thinking patterns and fitness exercise for anxiety, depression and self-esteem. Talk and work out at the same time!
Meeting times: every other Monday, 6:45-7:45 pm
Sections:10-12 years old; 13-17 years old
Contact Sara Rodriguez, LCSW-C at creativecounselingconnections@yahoo.com or 301-740-6643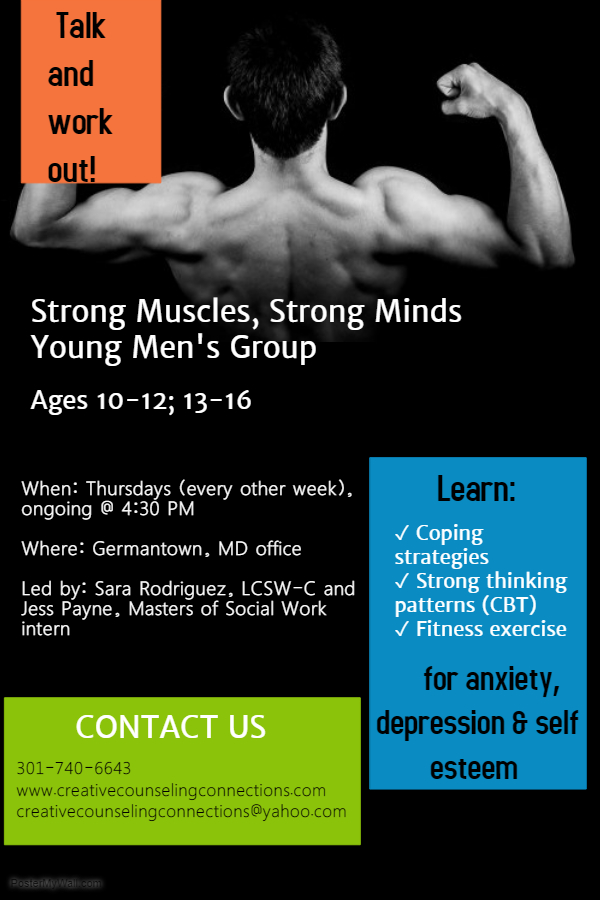 8-Week Adoptive Teen Girls Group:
Every other Monday, ongoing
Areas of focus: anxiety, insecurity, emotional regulation, grief/loss + individual needs
Cost: $45 per session or Carefirst/Cigna copay
Contact Sara Rodriguez, LCSW-C at creativecounselingconnections@yahoo.com or 301-740-6643
Virginia:
In-person Combo Support & TBRI/Connected Parenting Training Group (flier attached)
Led by Susan Maines, L.S.W.
Dates and times TBD based on participant's needs
Please email with interest in this group or in-home support
==================================================================
Need to talk to other adoptive parents who REALLY GET IT when it comes to your children?
Wish you had a safe place in which you could swap stories, learn helpful techniques and grow together?
Join a parent support group online via video-conferencing, from anywhere in the nation. Video-conferencing means you will receive a link that allows you to join from anywhere -your office- your house- your smartphone, and you will be able to see up to 4 others on your screen.
What can I expect in the support groups?
The groups are participant-run (these are not therapy groups); however, I will be joining you for a portion of the first and last group in order to set up the structure, provide recommendations and finally bring the group to a close. The first 25 minutes will be a time to share "highs and lows" of the week, while the second portion will be used to discuss a book or resource relevant to your stage in parenting. Of course, any group or individual can certainly sign up for another 6 weeks if you've made good connections and would like to continue.
Evening Support Group/Book Club for Parents of Adopted Children:
Mondays, 8-8:45 PM EST
April 13- June 1, 2015 (no group May 25 for Memorial Day)
Book: The Connected Child by Dr. Karyn Purvis
Lunch Support Group/Book Club for Parents of Adopted Tweens/Teens: $5.50 per group!
Wednesdays, 12:30-1:15 PM EST
April 8- May 13, 2015
Book: Beneath The Mask: Understanding Adopted Teens by Debbie Riley